Getting started
As one of the three biggest social media platforms, Twitter can work wonders for your business as there are 326 million average monthly users out there with whom you can share your content. With over 7000 tweets made every single second, the average life of a tweet is only about 18 minutes! Thus, it is quite a challenge to make your tweet gain visibility in a flood of tweets.
Thus, trusted by over 40,000 businesses, our tool "TweetFull" helps you get engagement by auto liking, auto-following, and auto retweeting your potential customers' or audiences' tweets, all using your Twitter account. It will help in creating curiosity amongst them and drive them to check out your account too!
So, without any delays, start your free trial today . Let's get you started with the process of setting up your account.
1. How to connect a Twitter account?
Connecting your Twitter account is the first and the foremost step for using Tweetfull's tools. Follow the steps mentioned below and it can be done within a mere 5 minutes!
a. Signing Up:
On opening the Tweetfull's website, click on the button indicating "SIGN UP FREE" on the top right corner. On the next screen, fill up your basic account details which you will be using for logging into your TweetFull account.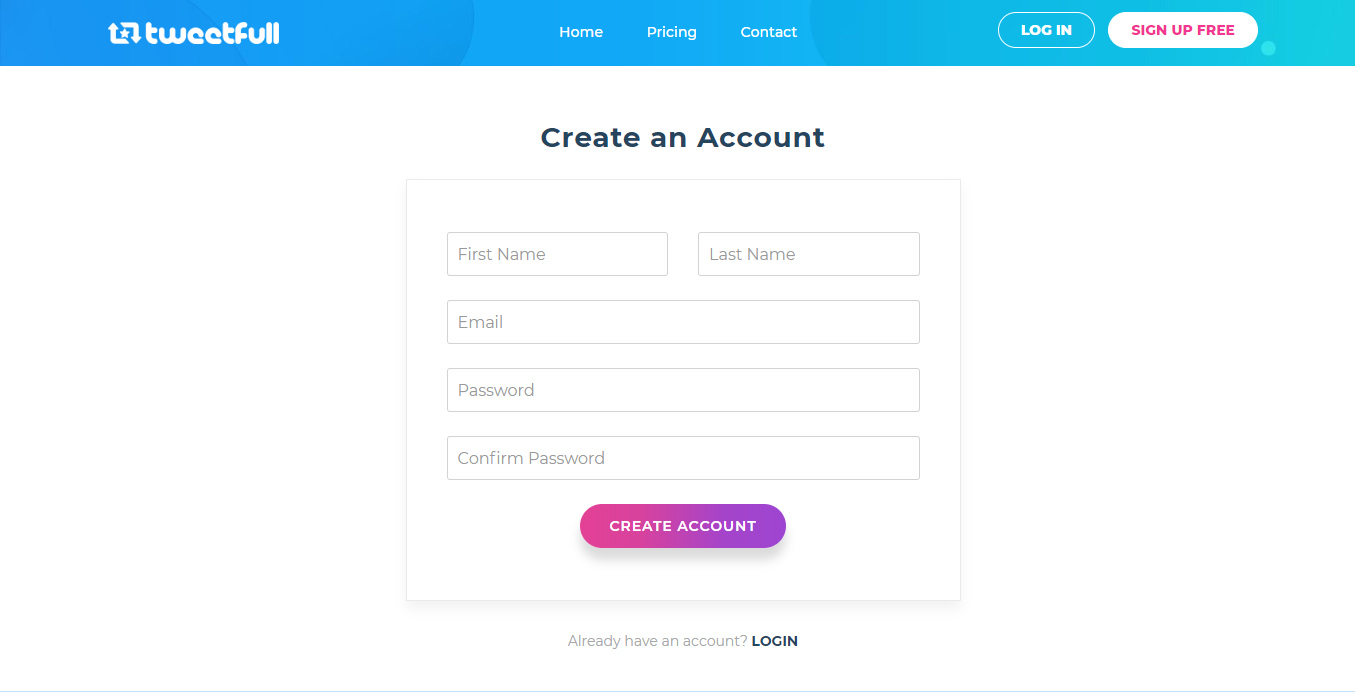 b. Connecting Twitter:
After creating an account, the next act is to connect your Twitter account. Make sure that your Twitter account is logged in into the device that you are using.
Click on the "Add Twitter" button. Now, you will be required to create a developer app with Twitter in order to move ahead.
c. Connecting Twitter account:
(1) Using Google chrome extension:
After creating an account, the next act is to connect your Twitter account. Make sure that you have logged into your Twitter account in a different tab of the same browser.

After clicking the "Add Twitter Account" button, you will be directed to the next page to see the Google Chrome Extension link.

By Clicking on the download link, the Google Chrome extension gets downloaded to your system and after downloading it, extract the downloaded file to a folder.

Now go to Google Chrome settings and select Extensions and once entering the extension page, enable the Developer mode.

After enabling it, click on the "Load unpacked" button, and after clicking it select the extracted folder.

By selecting the extracted folder, the extension gets added to your Google Chrome browser.

Once you are done adding Google Chrome Extension, click on the button TweetDeck Connect in the extension column of your browser, where you could see the button Connect your account.

By clicking the connect button, your Twitter account gets linked with Tweetfull.
(2) Using Developer app :
The steps will slightly differ depending upon whether you have an app already or not. (A step by step guide is provided on Tweetfull which you can easily follow by clicking on the continue button. Alternatively, You can follow this link https://tweetfull.com/steps-to-create-a-developer-account-on-twitter and use the steps there.)
Let's see both the cases:
Creating a new app
The screen after clicking on "Add Twitter" will display a link (https://developer.twitter.com/en/apps) which can be followed to redirect to Twitter's developer page.

On the developer's site, click on the Apply button and then select "Doing something else" as your reason to use Twitter's developer tools.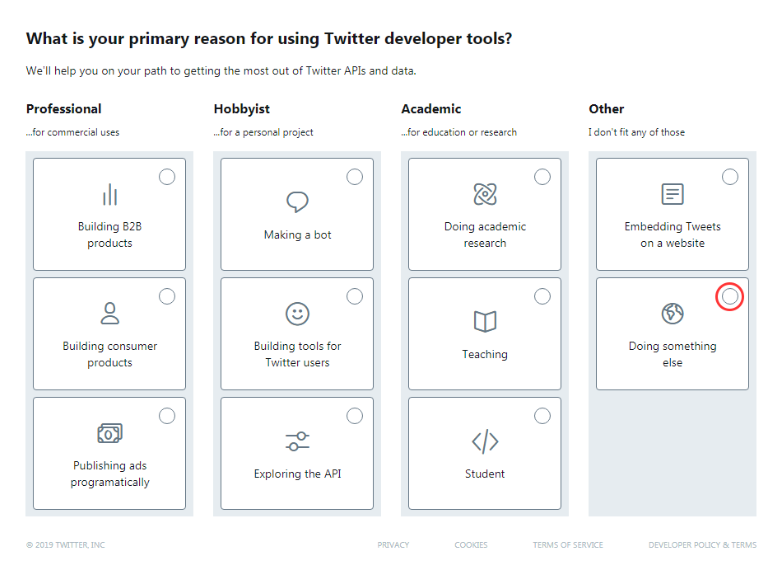 The after page will ask you to add a valid phone number and confirm your country and account name. Describe briefly how you plan to use Twitter data or copy the text shown in Tweetfull's directions and paste it in the description box.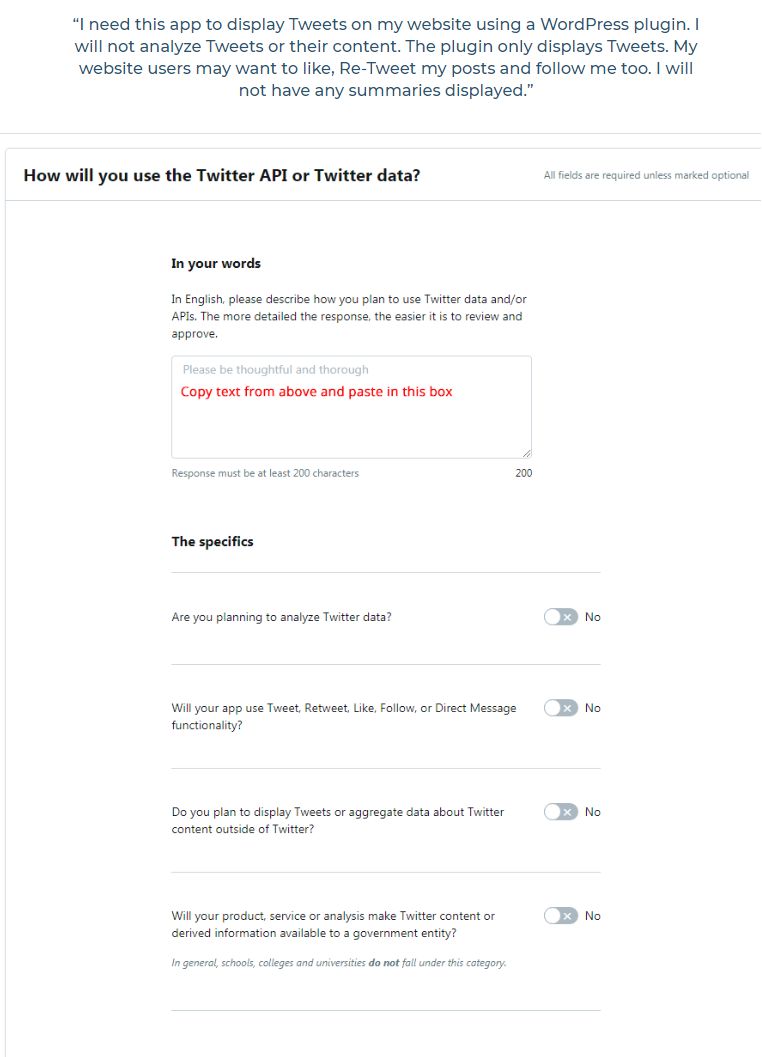 Turn off all the other options for 'the specifics'. Approve all the details and accept the term and conditions mentioned. Confirm your email address and the next screen will show you an option to "Create an app" on the right-hand upper corner.

A form will appear asking you to fill all the necessary details, which will include -
App name - Your app name will appear as the source of your tweets, so it is advisable to use your name or your company's name itself.

Application description - This is a space to type in the purpose of your app. If you do not have any specific purpose, simply copy paste the sample description provided by Tweetfull.

Website URL - Just like your name, you can choose your website URL. Choose a URL that can be easily remembered.

Leave the option for "Enable Sign in with Twitter" unchecked.

In case you have an organization, fill in the Name and Website URL or else you can leave these fields empty.

Lastly, write a small description of how your app will be used. Again, you can use the sample provided by TweetFull to fill up this field.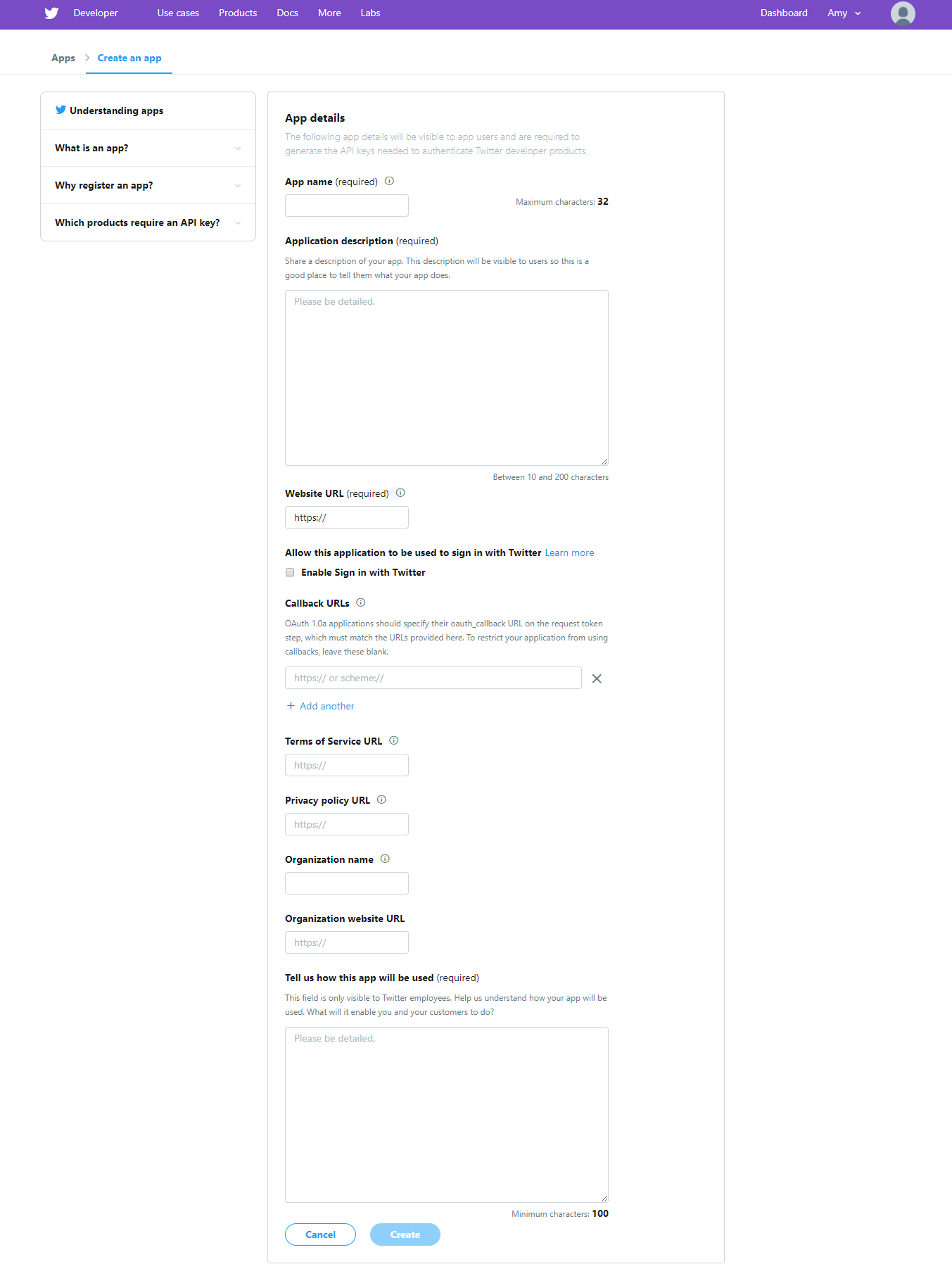 Your app is now created! Click on the Details button and it will show the specifications of the app that you just made.

Select the "Keys and Tokens" tab to view the consumer API keys and access tokens. In case the access token and access token secret are not shown, hit the Create button.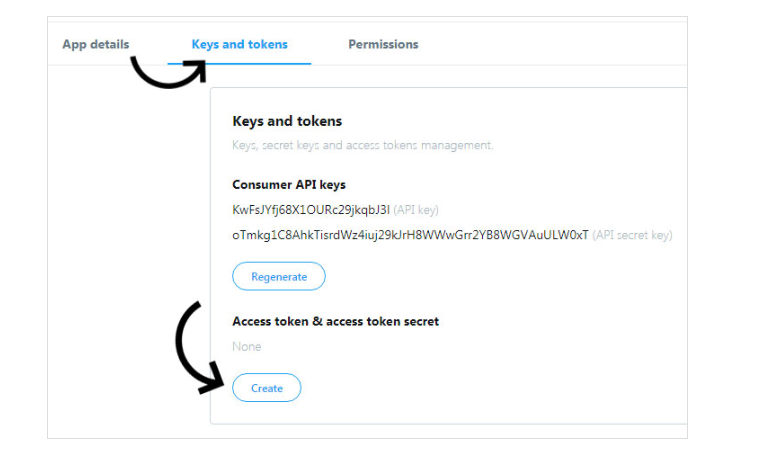 After that, copy all the keys one by one from the "Keys and Tokens" page, and paste them in the form shown on the Tweetfull's screen.
That's it! Your Twitter account is now connected and you'll be able to see that on the dashboard of your Tweetfull account.
If you already have Developer account
Please check if you have an app at https://developer.twitter.com/en/apps page. If you do not have the app then you can create one as shown above in the point C. If you already have an app then click on Details -> go to Keys and Tokens tab -> click on Regenerate under Access token and access token secret. You can copy all the keys and paste them on the last step on TweetFull.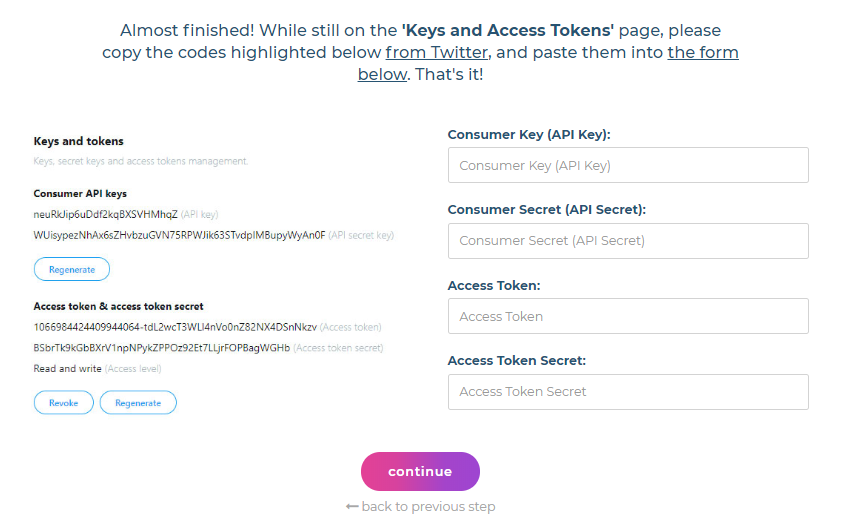 Once you are done, you can head over to dashboard and begin creating the promotions to get started with TweetFull.
2. How to change the account settings?
While you are on the dashboard of your TweetFull account, you will be able to see your account name on the right hand top corner. Clicking on it, a drop down menu will be visible. Select "My Account" from the menu to go to your account settings.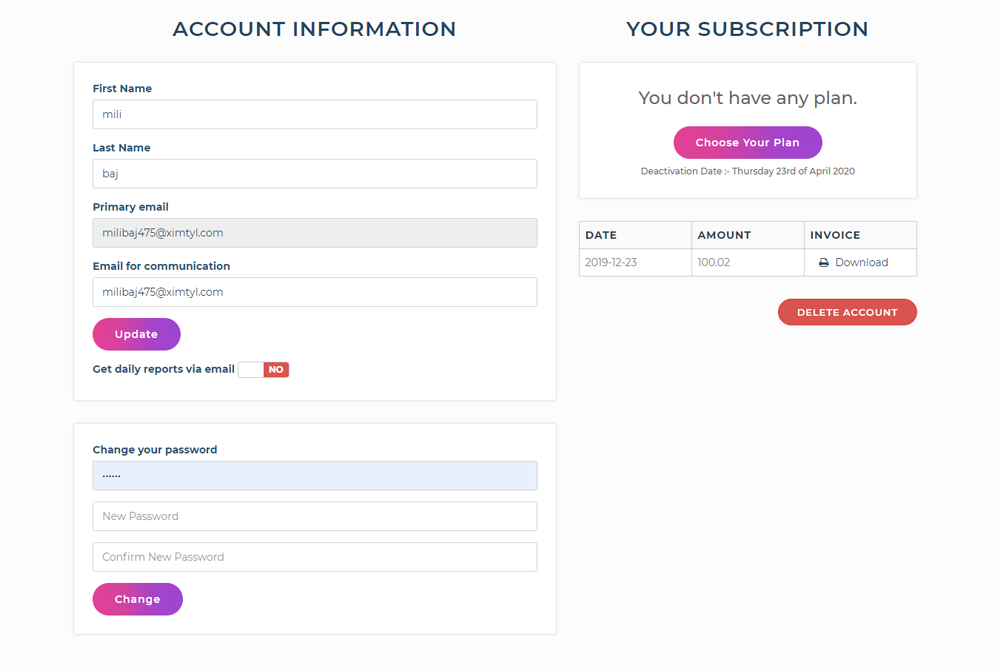 From this single screen, you will be able to change all the information related to your account that you want to, except your primary email using which you registered for TweetFull.