What is a copy follower Campaign? How to create it?
A copy followers Campaign allows you to copy the followers of your competitors.
Briefly speaking, when you create a copy followers Campaign, TweetFull will auto follow the followers of your competitors, i.e. the accounts that you will mention while adding the Campaign. By doing so, the people who get followed will be compelled to check out your account once, and the chances of them following your account back increases.
Also, as only your competitors followers will be targeted, your Twitter account will be engaging only with people relevant to your business or purpose. Those will be the accounts that are already interested in the kind of services or updates that you will provide.
For creating a Copy follower Campaign, go to the dashboard section. There will be a message saying "Add a Campaign to get started". Click on "Add Campaign" and select the "Copy followers" option.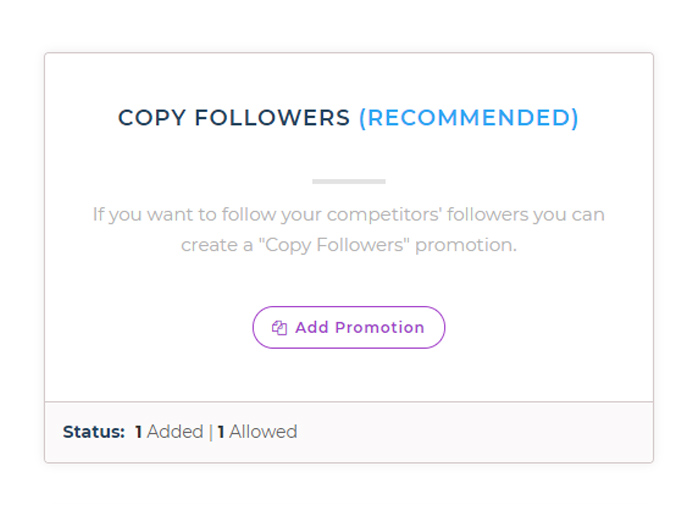 The next screen will ask you to fill up certain details in order to customize your Campaign. Let's see in detail what each of the criterion means.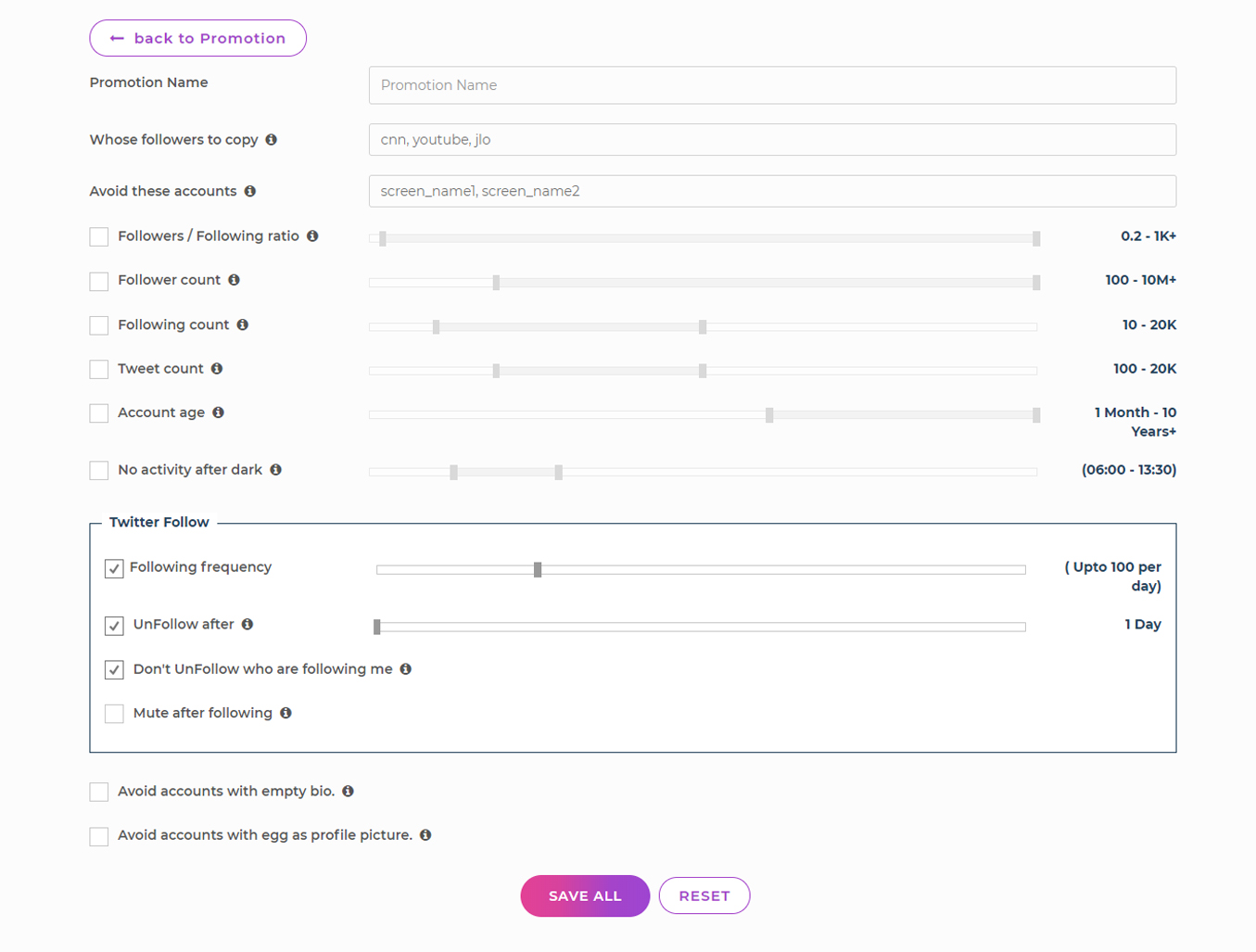 1. Campaign Name
The first step is to give your Campaign a name. You can choose any name as per your convenience, for example, Jay's copied followers.
2. Whose followers to copy
This is the main information that you are required to give. Include the Twitter screen names of the accounts whose followers you want to copy.
TweetFull will particularly follow the people that match your requirement and create engagement accordingly. Because screen names are case sensitive, make sure that you enter them correctly!
For example, if you want to copy the followers of Apple music, insert it's Twitter screen name "AppleMusic". Include a good number of accounts to approach a wider crowd.
3. Avoid accounts
All the names in your competitors' followers might not be a part of your target audience. It might happen that you do not want to engage with some specific accounts from the list that are related to politics or any kind of spam activity.
Tell us their screen names in this field and we'll ignore those accounts while executing the Campaign.
4. Followers/Following Ratio
When accounts on Twitter have a huge following count and only a few followers, they are generally considered as Twitter bots. While influencers, on the other hand, may have a lot of followers and very low following.
The Followers/Following ratio generally shows the amount of followers and following the targeted accounts should have. It's however recommended to leave this box unchecked to reach a broad audience.
5. Follower count
Do you want to follow people who have a significant follower count? You can use this feature to set the range of followers that the accounts should have. Keep it in mind to not keep it very high, as most of the accounts do not have abundant followers.
6. Following count
Here, you can set the amount of following that the accounts should have. Real accounts generally avoid following people in multitudes, so you can set an ideal range of 10 to 20k.
7. Tweet count
Fake accounts are engaged in tweeting more than genuine accounts. They might be having millions of tweet counts in their profile. Similarly, inactive accounts may have little to no tweets at all. It is preferable to not follow them and focus on the accounts with a reasonable tweet count.
8. Account age
New accounts are less likely to have more number of followers. But, they can follow you more easily as compared to established and older accounts. We recommend you to select a healthy range of 1 month to 10 years as the account age.
9. No activity after dark
You might be keen to notice every action take we take on your behalf. So if you want us to stay put and do not take any action while you sleep or eat, you can select the time frame for the same in this field.
Still, it is better to leave it empty as it will limit the time period for the activities to be undertaken.
10. Twitter follow
10.1 Following frequency
This option allows you to set the number of people that you want to follow in a span of 24 hours. Remember to keep it somewhere in between - not very low and not very high. A number around 20 to 30 would be practical.
10.2 Unfollow after
As we are talking about following a good number of accounts here, unfollowing them after a certain period of time is also necessary. If the accounts that you follow are not following you back, it means that they are not interested in what you are offering. Thus, it is better to unfollow them.
Select the number of days after which you want TweetFull to start unfollowing people from your account. 2 - 3 days of time period is normally recommended.
10.3 Don't unfollow who are following me
Unfollowing people who showed interest in your account and followed you is something which will not leave a good impression. Check this box to ensure that the people who are following your account are not unfollowed.
10.4 Mute after following
This option is for the notifications that we receive when someone we follow uploads a tweet. This might disturb you as accounts will be automatically followed throughout the day. Keep this option checked to mute such notifications.
11. Avoid accounts with empty bio
Accounts that are inactive or not being operated regularly by the owner generally do not have a complete bio. It is fitting to ignore them as they will not add any value to your account.
12. Avoid accounts with egg as profile picture
When people do not upload their own images as profile pictures, Twitter sets it to a default egg picture. Such accounts are also idle and are favorable to neglect.
When you fill in all the necessary details, click on 'Save All'. Go to the Dashboard and select the 'active Campaign' link. Here, you will be able to see all the Campaigns that you made and can access them as needed.